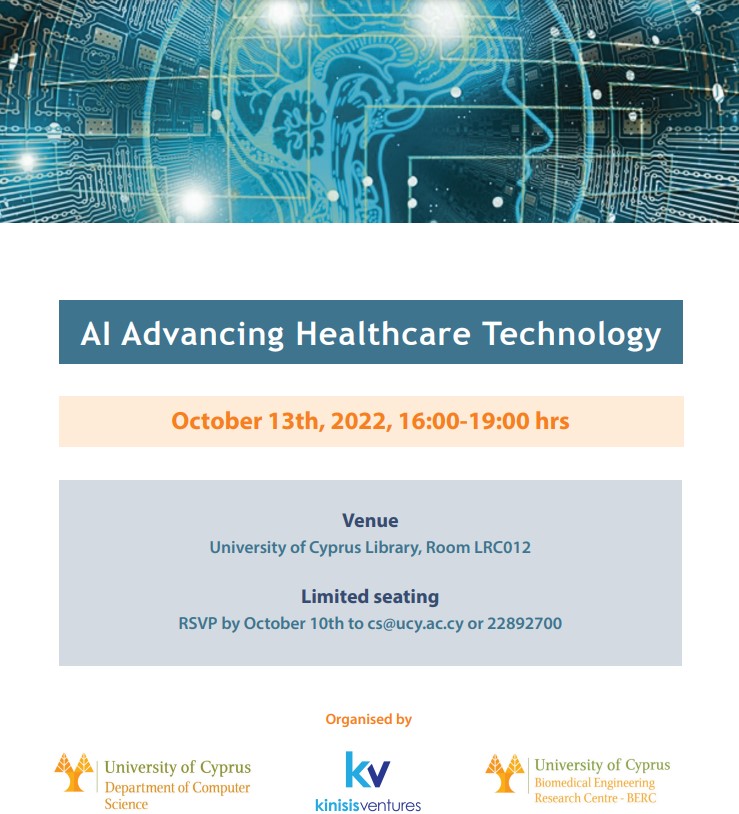 AI Advancing Healthcare Technology - October 13th, 2022, 16:00-19:00 hrs
Venue: University of Cyprus Library, Room LRC012
Limited seating: RSVP by October 10th to This email address is being protected from spambots. You need JavaScript enabled to view it. or 22892700
Organised by the Department of Computer Science, University of Cyprus, Kinisis Ventures, and Biomedical Engineering Research Center - BERC
PROGRAM
16:00-16:15 Opening Remarks
Elpida Keravnou-Papailiou, Chairperson, Department of Computer Science, University of Cyprus
Constantinos S. Pattichis, Director, Biomedical Engineering Research Centre, University of Cyprus
16:15-17:15 Keynote Lecture: AI Ecosystem Assets Driving Healthcare Technology Advances
Dr S. Vincent Grasso, DO, MSIS, MBA, Chief Technology Officer at Family Christian Health Center, Chicago, USA & Forbes Technology Council Member (See below for Abstract and Short Bio)
17:15-17:30 Coffee Break
17:30-19:00 Panel Session: Valuation and Commercialization of Research and Innovation in the Healthcare/Biotech Sector
Moderator:
Michael Tyrimos - Capacitor Partners
Panelists:
Dr. S. Vincent Grasso - Kinisis Ventures Health/Biotech Subject Matter Advisor
Constantinos Loizou - EMBIO Diagnostics
Maria Markidou Georgiadou - Cyprus Seeds
Dr. Marianna Prokopi Demetriades - Promed Bioscience / Theramir / RSL
Assist. Prof. Michael Sirivianos - Cyprus University of Technology / CYENS Centre of Excellence
Chris Droussiotis - Kinisis Ventures
Abstract
The lecture will cover the current healthcare technology stack evolution being fueled by way of integrated cloud-based application assemblages leveraging the following AI classes: Conversational Computing, Machine Learning, Intelligent Robotic Process Automation Functionality derived from this AI driven evolution, labeled by Dr. Grasso as AI Ecosystem Assets. The presentation will also discuss how the above will impact global healthcare delivery by 2027 including but not limited to the following:
Disruptive cost savings afforded by a scalable cloud-based hybrid human / digital workforce.
Sizable improvements in clinical outcomes by newfound and richer insights into clinical data.
Considerable increases in patient satisfaction by bespoke multilingual omnichannel communications at scale.
Complex clinical workflow automations enabling bespoke home-based chronic disease management initiatives.
Advances in remote patient monitoring and medical device design and deliverables.
Short Bio S. Vincent Grasso, DO, MSIS, MBA
Dr. Grasso has been leveraging his healthcare, technology, and business subject matter expertise to optimize value contribution, market differentiation, and competitive advantage within equitable constructs. These deliverables span healthcare technology startups to Fortune 100 companies within multiple C Suite and senior level consulting roles. He has dedicated the past 5 years to expanding his technical prowess within the domain of Artificial Intelligence specifically as it relates to the global healthcare vertical. To that end, he has formulated a technology roadmap expansion of the existing healthcare vertical technology stack. This expansion will include the integration and deployment of cloud-based applications leveraging Conversational Computing, Machine Learning, and Intelligent Robotic Process Automation into, what he has coined, AI Ecosystem Assets. Expected deliverables include disruptive healthcare delivery cost savings with significantly improved patient outcomes and satisfaction at scale within a multilingual omnichannel cloud- based ecosystem. Despite the considerable hardships and limitations imposed by the COVID 19 Pandemic, Dr. Grasso expanded his deliverables via 3
concurrent roles. He was the Healthcare and Life Sciences Global Practice Lead for Amelia Inc., the world's leading private AI company, is the CTO for a rapidly expanding network of Federally Qualified Health Centers (FQHCs) in Chicago Southland and treats patients as a multilingual physician within a Village Medical multispecialty clinic in the New York Tri-State area. His academic credentials include the following; MBA / UMass Amherst, MSIS / NJIT, Medical Informatics Fellowship/ NASA Yale University Commercial Space Center for Medical Informatics and Technology Applications (CSCMITA), Advanced Minimally Invasive Surgery Fellowship / Yale University Department of Surgery, General Surgery
Residency / Mt. Sinai School of Medicine Manhattan Program, Internal Medicine Internship / RWJ School of Medicine, Osteopathic Medical Degree / Des Moines University, Dante Studies / University of Bologna, and BA / St. Peter's University. His commitment to continuous learning and knowledge advancement includes a planned MSc Public Health / London School of Hygiene & Tropical Medicine and PhD (AI) / Otto von Guericke University Magdeburg. Among his many formal domestic and international business recognitions and academic achievements include recent entry into the Forbes Technology Council as one of a handful of practicing physicians heavily involved in AI. In addition, he is the Director of Social Media & Strategy for Artificial Intelligence Surgery, an innovative peer reviewed journal unique for its dedicated focus to all things AI within the surgical domain.